Aquatic habitats are water bodies supporting aquatic life. Increased temperatures of effluents, greater discharges of water, pollutants and waste, and changes in water bodies morphology impact all the basic habitats characteristics and affect the performance of associated biological communities. Impacted ecosystems lose their resistance to the escalating stresses as well as the resilience allowing them to adapt to changing conditions. Water stress imposes losses of, and trade-offs between, services and their different beneficiaries and stakeholders. Considering the growing water use and wastewater production, the need for tradeoffs between meeting the demands of urban population and those of aquatic habitats will be even more challenging in the future (Maksimovic and Tejada-Guibert 2001; Marsalek et al. 2006).
Urban aquatic habitats include urban streams, canals, rivers, ponds, impoundments, reservoirs and lakes and other water bodies. The main aquatic habitat characteristics, fall into five groups: (a) flow regime, (b) physical habitat structure, (c) chemical variables (water quality), (d) energy (food) sources, and (e) biotic interactions, (Yoder, 1989).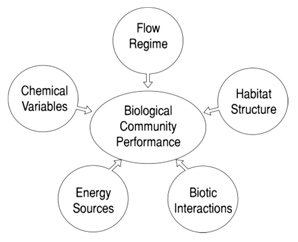 Factors influencing biological community performance (Yoder, 1989)
Human modifications of aquatic habitats
The above characteristics of aquatic habitats is also reflected in the classification of major human pressures to which they are exposed (Karr et al. 1986), especially in urban areas. The primary factors of habitat deterioration are water quality decline and flow alternations, which is particularly pronounced in urban catchments. The broad range of chemicals from point and diffused sources include toxic substances and carcinogens, fertilizers, pesticides, herbicides, household hazardous wastes, oils, anti-freeze, heavy metals, pet and yard wastes, and pseudo-hormones. Simultaneously, the natural heterogeneity of habitats is very often destroyed. In many cities, aquatic habitats are included into the urban sewerage, playing a role of storm water receiver and disposer. Their structure is adapted for these purposes, and include canalisation, regulation with concrete stabs, water uptakes, turning underground, damming and others. These modifications induce several changes in habitats characteristics.
Resources:
Lafont, M., Marsalek, J., Breil P. 2007. Urban Aquatic Habitats: Characteristics and Functioning. In: Wagner, I. , Marshalek, J. and Breil, P. (eds). Aquatic Habitats in Sustainable Urban Water Management: Science, Policy and Practice. Taylor and Francis/Balkema: Leiden .
Karr J.R., Fausch K. D., Angermeier P. L., Yant P. R & Schlosser I. J. 1986. Assessing biological integrity in running waters: a method and its rationale. Illinois Natural History Survey, Special Publication 5, 28 pp.
Maksimovic, C. & Tejada-Guibert, J.A. (2001). Frontiers on Urban Water Management: Deadlock or Hope? IWA Publishing, ISBN: 1 900222 76 0, London, UK.
Marsalek, J., Jimenez-Cisneros, B., Karamouz, M., Malmqvist, P.A., Goldenfum, J. and Chocat, B. (2006). Urban water cycle processes and interaction. UNESCO Press, Paris, Feb.
Yoder, C. 1989. The development and use of biocriteria for Ohio surface waters. In: Flock, G.H. (Ed.), Proc. National Conf. Water Quality Standards for the 21st Century, U.S. EPA, Office of Water, Washington, D.C., pp. 139-146.